These Flames Fans Took the Sign Game to the Next Level on Saturday at Rexall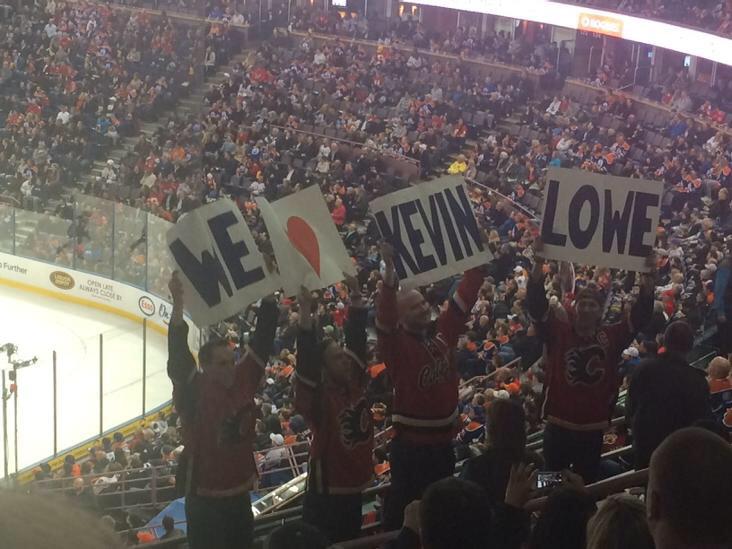 I hate how much I love this move by these Flames bros. It's not often anyone is able to troll an entire fanbase without insulting the fans, but these guys did it. And god dammit do I ever respect it.
They didn't need to throw a barrage of insults at us Oil fans talking about how junk the team has been for years and years. They didn't need to make fun of the fact that we've drafted first overall three times in five years and still can't manage to muster up more than 65 points in a season or the fact that our goalies often have trouble making routine saves. Nope. All they needed to do to troll us is make a sign saying how thankful they are for one of the men responsible for it all. The one guy who has been here through one of the worst decades by a team in NHL history and still somehow has a job. These Flames bros know that no matter whether their team makes the playoffs or not, they still get the last laugh because at least they don't have some bumbling doofus running their team into the fucking ground year after year. They know that as long our boy Kevin Lowe is still with the team, we are a laughing stock. Name one other professional sports team whose upper management are able to hold onto their jobs even though they do literally the worst job out of everyone else in their position every single season. You can't. The Oilers are brutal and it's been that way for too long. These Flames bros know it. The NHL knows it. Everyone knows it. Everyone except for the Oilers. Maybe if Kevin Lowe would stop focusing on how much he knows about winning, he would realize that his hockey team has been the worst franchise in the league over the past decade, and a lot of it is his fault. Just acknowledge the fact that you suck at your job and hang em up, Kev, or take your winning expertise elsewhere. That would probably be enough to make Oilers fans happy until we're eliminated from the playoffs by the end of October again.
Not being able to respond to insults from Flames fans is depressing as hell.
PS – Excellent Taylor Fedun jersey in the background. Great to see his legacy as an Oilers lives on stronger than ever.