ALDS Previews: JAYS-RANGERS REMATCH!!!!! and also another series, I guess
Ahhh, Octobertime. The time of the year to indulge in pumpkin-spiced corn mazes and filling your old puffy vest with leaves to give it that nice crunchy puff that's in style this season. It's also playoff baseball time, so dust off your drinking hats and get ready for the goateed sportsmen in baggy pajamas to base the balls.
JAYS VS. RANGERS
How they got here: I feel like you more than likely know how the Jays got here, but I'll just use this as a reason to post some obnoxious gifs and pics.
That moment you realize you're going to be filthy rich this winter pic.twitter.com/BAAhhKIu4P

— Pete Blackburn (@PeteBlackburn) October 5, 2016
When you break the Erotic Big Buck hunter high score @Gayhooters pic.twitter.com/6x3vVoY8Aj

— Sexy Intestine Man (@HellblazerVice) October 5, 2016
— Brandon Warne (@Brandon_Warne) October 5, 2016
That was dope, right?
One thing that was not dope about Tuesday's game was some idiot throwing a beer at Hyun-Soo Kim. Police are still looking for the culprit, but I have used my expert detective skills which I have honed by watching three childhoods worth of Scooby-Doo episodes, and I am almost certain I have found the guilty party: Zach Britton.
Think about it. Both Britton and the beer thrower were seen in Rogers Centre before and/or during the seventh inning. After the incident occurred, the soda chucker could not be located by police. Also nowhere to be seen in the late innings: Zach Britton. The circumstantial evidence is impossible to ignore. I rest my case.
The Rangers on the other hand, got here by being cowards and winning their division. They didn't even put themselves in a situation where they had to risk their entire season on a one-game playoff! The Jays went all-in. Texas took the easy way out by winning their division like a bunch of timid dweebs. Sounds to me like they're lacking a lot of big ol' swingin' confidence* in the Texas dugout.
The fact that Texas somehow managed to win their division despite scoring only eight (8!!!) more runs than they allowed this season is completely idiotic. If you are not a baseball person, that is not a good run differential! For comparison's sake, the Blue Jays scored 93 more runs than they allowed. That was the 5th best run differential in MLB. Texas was 14th out of 30, right in the middle of the league.
One thing that helped Texas overcome their amazingly average run ratio en route to the AL West crown was their 36-11 record in games which were decided by one run. That is an obscene amount of luck! The Texas Rangers should have been a .500 team! Yet here we are. Frig these guys.
*Dicks. When I said 'confidence,' I meant 'dicks.'
The History: The Rangers and Blue Jays played each other a few times this year. In most of those games, nothing out of the ordinary happened. In one of them, a lot of things happened. Come to think of it, that was the last time they played. This could be interesting.
And, oh, yeah; let's not forget last year's ALDS……….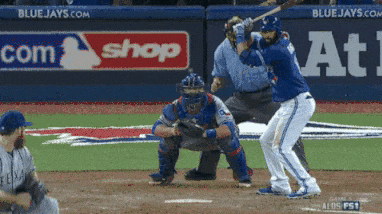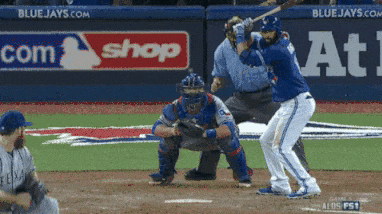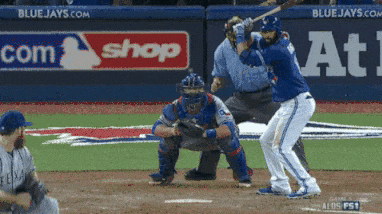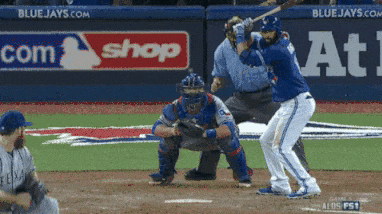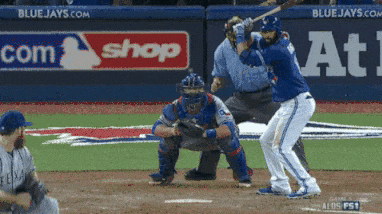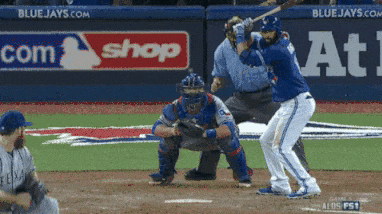 Fuck. Yeah.
Prediction: Jays in 2½. With the Jays up 17-2 in the sixth inning of Game 3, a fan throws a cranberry juice** at Rougned Odor while he's in the on deck circle. The benches clear, and Odor goes Ron Artest, entering the Rogers Centre stands and assaulting a dozen Blue Jays supporters, including three babies. Commissioner Rob Manfred cancels the rest of the game, awards the Jays the series win, and bans all Rougned Odors from Major League Baseball.
**Beer sales will be cancelled at Rogers Centre for the series because of the idiot sauce-tosser from the Orioles game.
RED SOX VS. INDIANS
Who even cares? Certainly not the people of Cleveland, a city disaffectionately referred to by many*** as America's Winnipeg! The Indians came 28th in MLB attendance this year. They were drawing 13,000 a game in July while leading their division. This is a shameful waste of a good baseball team!
Obviously the Red Sox will win because the baseball Gods (and regular God, who admittedly probably isn't real if Tim Tebow's team can't win a Wild Card game) will not let these Clevelanders who fail to show up to the ballpark have nice things. And surely they can't let Cleveland have two nice sports things! In the city which named a street where Don King killed a man after Don King? Not a chance!
Also, Big Papi needs another trophy like he needs another plate of WASAKAKA CON QUESO FRITO.
Too much karma against Cleveland. Sox in 4.
***Just me. Only I call Cleveland that.