Here Comes the Sweep: Oilers @ Flames
Live look at my house on Wednesday night:
What a win. What a way to open the Iron Jungle. Connor literally ripping the heart out of every Flames fan's chest on a nationally televised game. Hanging a touchdown and an extra point on the Flames at anytime is outstanding, but there was nothing more we could have asked for on opening night. Sure, they made it a tight game for a little while, but that was only because we absolutely gift wrapped them back-to-back short handed goals. Calgary had no business being in that one and the same goes for the tilt tonight. Time to grab a quick four points to kick off the season.
The Lineup
#Oilers D pairings tonight: Klefbom-Larsson, Sekera-Russell, Nurse-Gryba. Projected starting goalie: Talbot. #EDMvsCGY

— Edmonton Oilers (@EdmontonOilers) October 14, 2016
Couple of changes from opening night. That scumbag prick Matthew Tkachuk decided to play the tough guy act and slewfoot an ENS favorite, Brandon Davidson. Eric Gryba will draw into replace Davy, and Tony Lander makes his season debut playing on the wing in place of Tony Slepyshev.
Iceman in the pipes.
Tonight's Opponent
The Calgary Flames, again.
Why They Stink
Hey Calgary, how's the weather down there? You bums. Too bad your million year old, dumpy-ass arena doesn't have proper insulation to keep you guys warm down all the way at the bottom of the standings.
Yeah it's one game into the season, but you better believe it's not going to stop us here at ENS from relishing in our very, very, early season success. We take what we can get in Oil country, and that's going to be another two points tonight down in Calgary.
Why Their Fans Stink
@NHLFlames too bad the refs caused the turning point in this game. @NHL referees now $ponsored by @RogersPlace and @EdmontonOilers

— James Huntley (@JamesHuntley) October 13, 2016
Hey you dummies.. Forget the fact that we absolutely gifted you two of your three goals in that game thanks to some classic Oilers turnovers. But let's for sure not bring up the fact that one of your meathead defencemen tried to paralyze a linseman last year. Would definitely like to wish Dennis Wideman the best of luck getting some calls this year. Jackass.
What Flame Stinks
@Lowetide Davidson was sleefooted pic.twitter.com/cp6VRphz2W

— Trentent Tye (@TrententTye) October 13, 2016
Hey Matthew Tkachuk, welcome to the shit list. This little prick has become the newest in a looooooong line of Flames that this blog hates. Thank god they drafted this guy this year. It's going to be beyond fun hating him for the next decade. He took a run at Kris Russell early, slewfooted Davy in the second, and took a late run at Adam Larsson in the third.
Jerk face like you read about.
Once McDavid comes out and hangs four on these scrubs in the first tonight, I expect Darnell or Zack to pull the rookie aside to see how tough he really is. What's Calgary going to do about it anyways?
The Roundup
A win on opening night was outstanding, but a win tonight may be even sweeter. If we can roll into that relic of an arena down in Calgary tonight and snatch two points away from them in front of their fans, this season will be off to a screaming start.
Brian Elliot can't be nearly as stinky again tonight as he was the other night, so the Oilers can't be expecting to walk in and bury 7 again. Glen Gulutzan also decided to pull his head out of his ass and pair up TJ Brodie with Mark Giordano to match against McDavid's line. I would be surprised if they can keep him off the board, but the Oilers other lines will need to capitalize on their softer matchups for some depth scoring.
Prediction City
Captain Connor helps the boys out to an early lead when he makes Giordano look like a fire hydrant for the 100th time already this year. Nuge gets on the board in this one as well and the Oil don't look back. Zack Kassian caps it all off with a pummeling of Matthew Tkachuk.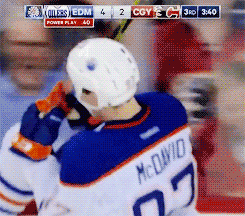 Big Rig with 2. 5-1 final for the good guys.
PS – Your boy Snash drafted Tkachuk in fantasy hockey this year. What an ass hat.