The Heater Starts Tonight: Oilers @ Islanders
Well would you look at that… the Oilers are still on top of the standings in the western conference. So this three game losing streak wasn't the end of the world after all. Key word being "wasn't." Todd the God took a trip to line blender city yesterday at practice and crafted up some new combos. Connor will have a new left winger tonight as the Big Rig moves up to the top line. Why haven't you bought a shirt yet? I think it's safe to say that the Oilers need at least one win over the next two days, and I like their chances against the struggling Islanders tonight more than I do on the second half of a back-to-back Sunday afternoon. Big Rig to the rescue. Lineup
19-97-14
67-93-98
27-29-44
15-55-51
77-6
2-25
62-83
33
As mentioned, the Oil did a Boston Pizza shuffle at practice, and this appears to be the lines they're rolling out in Brooklyn. ENS Hall of Famer Jesse Pool Party has been elevated, and rightfully so. He's been getting better and better as the season's gone on. Friggin Todd has also reconstructed Connor's old line from last year, sending Looch down play with Draisaitl, and promoting another ENS legend, the Big Rig, to play with el Connor. If we ever see a 19-97-98 line the ENS servers might explode.
One other quick note, Kris Russell has some injury, so Gryba checks back in. I'm totally guessing how those defensive pairs will look.
With the boys playing back-to-backs, looks like the Iceman is returning in goal tonight. Looks like we'll see the Monster in goal for his first start tomorrow. Needless to say we need this one.
Tonight's Opponent
The New York Islanders, my dudes.
Why They Stink
Ever since the Islanders decided to go full hipster and abandon ol' Nassau County to move to Brooklyn, things have been different. Gone are the days of the drunk barbarians stealing the seats out of their old barn, and in are the days of them having a goddamn car in their arena:
Hey Isles, this isn't Europe! There's no need to be advertising for Skoda or some shit right in the corner. That's prime real estate right there. You think you don't have a bunch of drunk fans that would love to sit there and hammer on the glass all night like American's love to do? Thanks a lot, Charles Wang.
Can we also talk about the fact that ever since they moved, their fans all the way out on Long Island don't feel like making the commute into the city for games.
I guess they'd rather slug cold ones on their couches than battle New York traffic. Don't blame them.
Also, the Oilers first game in Brooklyn last year was an 8-1 loss, so I still have a bitter taste in my mouth about this barn.
Why Their Fans Stink
I'll be completely honest, I don't think I can be mean to Islanders fans. Like I couldn't if i tried. They're the Oilers of the eastern conference. They won a whole bunch of cups in the 80s, then stunk like donair breath for 20 years before they drafted their franchise player with the first overall pick. And no, I'm not talking about Rick Dipietro. Before the Oilers were the Oilerzzzz, the Islanders were the Islanderzzzz. Isles fans trudged through rivers of shit for a decade and I respect them for it. We know that pain all too well in Edmonton. Islanders fans have dealt with idiot management, a million coaches, a thousand non-NHL players, and at the end of the day, they're arguably the third drunkest fan base in the NHL behind Edmonton and Winnipeg.
They better have the beers flowing tonight because you better believe they'll need them after Connor is finished.
Which Islander Stinks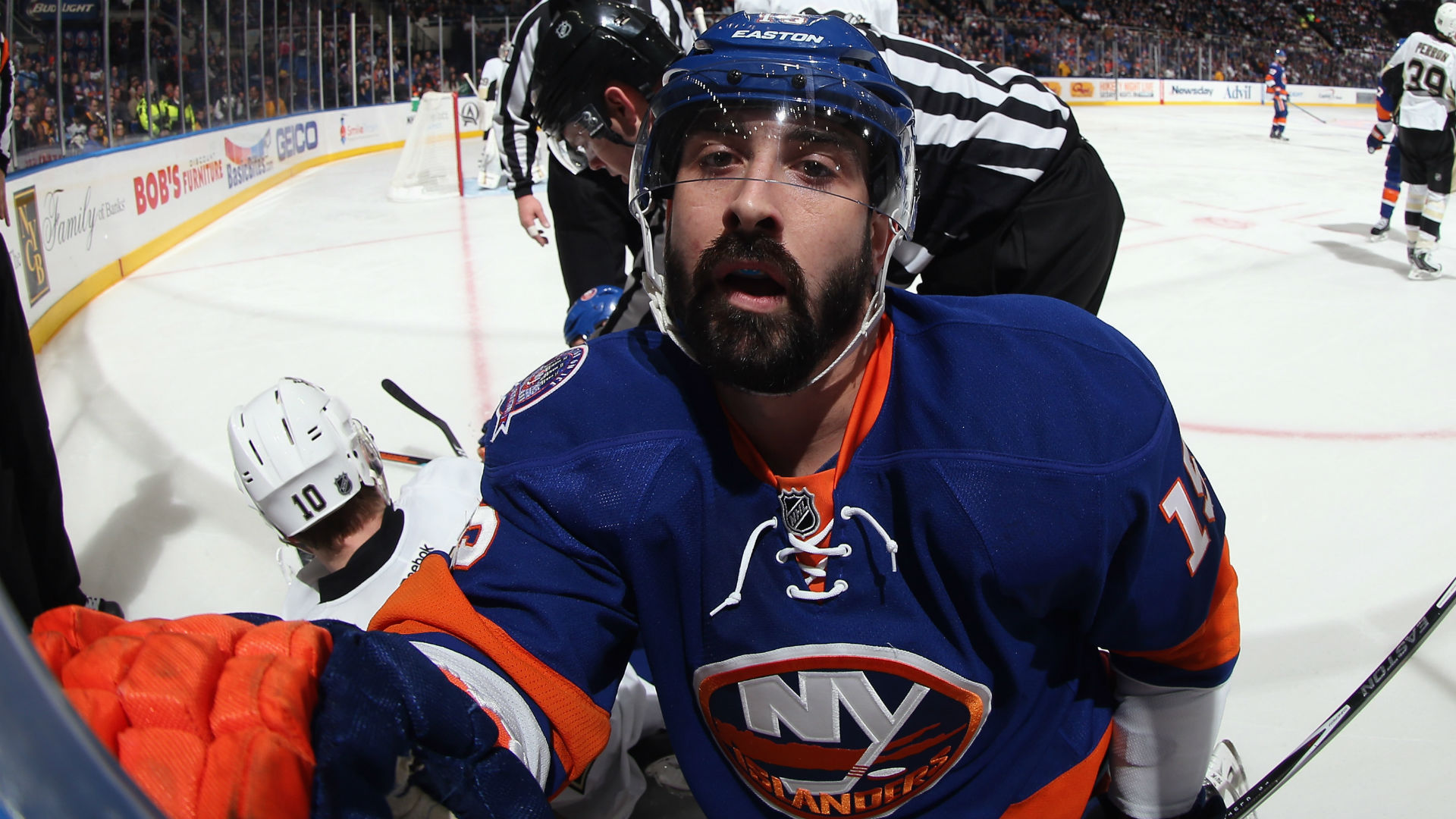 Cal Clutterbuck. Back when this guy used to play for Minnesota, he was a top five member of my shit list. Your classic example of a guy who would run around at star players without ever answering the bell. I will never forget when Taylor Hall almost broke Cal's leg off with a knee on knee hit back in the Concrete Jungle. Good times. And though he's in the east now, the hate still lives on.
The Roundup
As mentioned, the last time the Oilers played at the Barclays Center it was the worst loss of the season: 8-1. Of course McDavid scored our only goal that night. The Islanders have gotten off to a slow start this year, but the Oil know first hand that they're a team that can burn you in a hurry. Edmonton will need to play a better defensive game than they did on Thursday against the Rangers. They gave up a ton of dangerous shots and Cam Talbot bailed them out once again. The Oilers need more support from their wingers along the board to get the puck out of their zone. If I see Jordan Eberle lose another board battle that leads to a goal against I may have an aneurysm. With the line shake up and three consecutive losses, I expect the boys to have some jump in their game tonight. Road to redemption from last year's blowout.
Prediction
Three games is enough. McDavid comes out flying with the Big Rig on his wing. They get out to a hot start, jumping on the Isles with an early PPG from Nug. Big Rig continues his goal streak and adds a couple of his own. Buy a shirt.
Oilers win 5-2.