Afternoon After Blog: See You Again Next Saturday, Calgary
Nothing better than beating the Flames on Saturday night. Eat my crumb, Calgary.
1st Period
Well, if we're being honest, it was a pretty lame start to the BOA.
Other than Talbot bringing the heat on Sean Monahan early on:
And Zack Kassian making Mark Giordano look like a little weasel:
There wasn't much cooking in the first period.
0-0 after 20.
2nd Period
The second period started out like the first. I can't really remember what a playoff game feels like, but this felt like how I imagine a playoff game would feel. Both teams were playing conservative  I was beyond fired up when Brandon Davidson took Gary Hathaway into the end boards, and it was pretty much just a routine rub-out.
……Hathaway's wife knows a thing or two about routine rub-outs.
With the Oil on the PP late in the period, it was time to go Riggin':
Ugly goal but they all look the same on scoresheet. Number 18(!!!!!!!!!!) on the year for the Big Rig. Guy is going to get 30 this year. Unreal.
26 seconds later, Sean Monahan tied things up.
Fuck.
1-1 after 40.
3rd Period
Here is Leon Draisaitl giving Gary Hathaway the business:
Was Sam "elite center" Bennett even playing last night?
The third period solved nothing. Each team had their share of chances, but we were off to OT.
OT
It was one of those overtime's where you had to get off your couch and stand.
Edmonton had some grade A chances, Johnny lesbo hit a post, and the Big Rig was robbed by Elliot with 2 seconds to go in OT.
Off to a shootout.
Shootout
After Leon and Letestu scored in the first 2 rounds, the Iceman needed to stop little Johnny:
OILERS WIN 2-1!!!!! HEY CALGARY: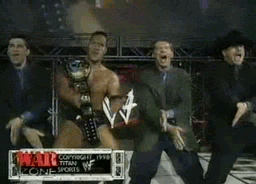 Final Thoughts
That was a fairly anti-climatic BOA. I think I was just too excited and expected it to be a fight to the death. It looked like both teams were playing to avoid making mistakes. I guess we should be expecting more of that hockey down the stretch for the Oil.
The Big Rig is quickly becoming a fan favourite. Nice to see him stay hot when the Little Rig was in the building.
Big Rig & Little Rig. 👊 #CGYvsEDM pic.twitter.com/4qeXatvUgQ

— Edmonton Oilers (@EdmontonOilers) January 15, 2017
Love that we're 3-0 on the year against the Flames this year. Next Saturday is going to be a hell of a tilt.
Milan Lucic needs to do something. Anything. He's been pretty much invisible the last couple of weeks. Other than him slamming his stick on the boards after every shift, there was nothing noteworthy involving him all night. Be better.
The Iceman cometh.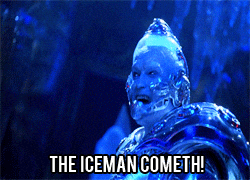 The Jays were in town to watch this one and they were fired up with the win:
#Oilers win! #Oilers win! #Oilers win! #WT2017 😁😁😁😁😁😁😁 pic.twitter.com/Qk0myOGYsP

— Blue Jays (@BlueJays) January 15, 2017
Wonder if the boys joined Connor and the Oil for some post win birthday cocktails.
Hottest Tweet of the Night
@EdmontonOilers @patmaroon I want mcdaddy inside of me

— Lebum 3-4 (@CurryOverLEBUM) January 15, 2017
Hey, Lebum….. time to chill out.
MOP
The Iceman. He had to make more big saves than Elliot did in this one. He was dialed in from the start and he was perfect in the shootout. Stud.
GGG
Like it would be anyone else…