Morning After Blog: The Heater Is Over
Well that just wasn't the Oilers night. Broken sticks, disallowed goals, general sloppiness. Can't win 'em all.
1st Period
It didn't take long for things to start going against the Oilers in this one. Brandon Davidson had his stick snap at the point and the Lightning had a 2 on 1 the whole way down the ice:
Aaaaand they made no mistake.
Before we had a chance to get too worked up about it, Captain Connor almost capitalized on a nice little effort of his own:
Just a bit outside.
1-0 Tampa after 20 minutes.
2nd Period
16 seconds into the period, Rej Palat buried his second of the night to put the Lightning ahead 2-0. It stayed that way until Iiro Pakarinen gave the Oilers some life:
2-1 after 40.
3rd Period
Much like the second period, Tampa didn't even need a minute to add some more insurance. 49 seconds into the period, Kucherov made it 3-1 for the Bolts because the Oilers decided to give him all day to walk into the slot.
But just when you thought the game was out of reach, Oscar Klefbom scored his 11th of the year. At least we thought he did. It was called back on a coaches challenge because it was deemed offside:
This super slow-motion replay robbed the Oilers of a goal, and Captain Connor of another point.
Hey, NHL….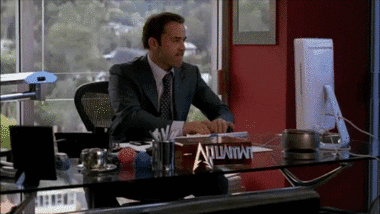 Tampa added an ENG.
Final score: 4-1.
Final Thoughts
That was a sloppy game by the Oilers. It seemed like they were just a bit off all night. Passes missing, pucks bouncing, and sticks breaking. It was definitely one of those nights where you knew by the end of the first period that it was probably going to be an L.
That disallowed goal would have given Connor a point against every team in the league. Already. But now thanks to the ridiculous offside review, we have to wait until next year to be able to brag about that.
Speaking of the offside review, it truly is absurd. Most of those plays at the blueline are within a split second of being legal. Instead, the league that is starving for goals continues to find ways to decrease scoring. Get it together Gary.
Dear Jordan Eberle. Ryan Nugent-Hopkins, and Milan Lucic. Wake the hell up already.
Not a terrible game by LB, but not a great one either. I think the Oilers will still look for a veteran backup as an insurance plan,, and head into the next season with LB as the backup. But for playoff purposes, they need a more reliable option.
Hottest Tweet of the Night
Turns out the Oilers fucking suck when they don't have Talbot constantly bailing them out from their garbage hockey play.

— Ace (@OilersBlues) February 22, 2017
This guy needs to relax. Last time I checked, Cam Talbot was part of the team, and the Oil are still on pace for 98 points. We'll be okay.
If the Game Was a Song
MOP
Let's give this one to Oscar Kelfbom. He lead the team with over 26 minutes of TOI, and was good all night. He also blew that disallowed goal right by Ben Bishop. The guy can shoot the pill.
GGG
Iiro the Hero. His goal gave him is third point in four games played since he's been back form injury, and he was throwing his weight around all night. A true Finnish grinder.