Afternoon After Blog: Ugh, Hell
That goddamn SUCKED. Nothing like a little Sunday night watching the Oilers lead a game 1-0 and then seeing the wheels absolutely fall off. Reminded me of the Oilers of old. Just a terrible way to lose a game. And to make matters worse, we had to listen to 8000 Habs fans celly in our faces all night. Nightmare fuel.
---
1st Period
Just over 5 minutes into this one, Darnell Nurse decided to get a little extra energy into the building:
WAY TO BE DARYL! WAY TO STAND IN THERE BUDDY!
That was a hell of a tilt. Unfortunately for us, nothing else happened in the period other than the Habs taking it to us. Thank God for the Iceman.
0-0 after 20.
2nd Period
With it still scoreless through the first four minutes, the Looch Bear woke up:
That's more like it Looch. Emelin doing his best Jultz impression on that one. Nice try, buddy.
The rest of the second period remained a sleeper.
1-0 after 40.
3rd Period
This is where the wheels fell off…
Here come the Oilers: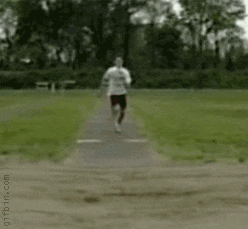 Final score: 4-1 Habs.
Final Thoughts
Tough night at the office for Edmonton. They were fighting the puck all night. If they would have been able to hold onto that 1-0 lead, it would have been damn lucky. But that doesn't make up for the fact that they fell apart. They had no response for the Habs' push in that one. And letting a 4 minute PP go down the shitter was no help.
I think it's time to slide Leon back down the lineup to C. Are the coaches every going to try Nuge on the wing with Connor? Wouldn't hate it. Or maybe Uncle Jess will be on his way up from Bakersfield. Who knows? All I know is both Leon and the Big RIg need a little jump back in their games.
No McPoint. And very little McDazzling. This is about all we got:
The Stars better look out on Tuesday.
Of course Anaheim won last night, so Edmonton is now sitting comfortably in the wild card spot aka the spot of the team that gets to get swept by San Jose in the first round. Christ. Time to start mixing in some more wins.
Hottest Tweet of the Night
@TomOppolzer @travisyost Last few years a pattern of hottest teams going into playoffs did well. WSH wins it over CGY in final.

— Jesse (@JT_FlamesFan_17) March 12, 2017
I think this Jesse fella has been drinking a little too much paint lately.
If the Game Was a Song
MOP
Looch earned this one just by making Emelin looks a goddamn pylon on that goal. We need more of that down the stretch.
GGG
DARNELL: