Morning After Blog: Season Sweep Alert
Thanks for the 6 points, St. Louis!
1st Period
This one started with quite a bit of play in the Oilers end. They held up until the 11 minute mark before the Blues struck on the power play courtesy a nice little deflection in front by Paul Stastny. But have no fear, because Jake Allen stinks:
LOOOOOOOOCCCCHHHH!! Is that secondary scoring? Oh baby.
After Magnus Paajarvi and Colton Parayko took penalties 25 seconds apart, the Oil would finish the period on a 5 on 3. Leon Draisaitl missed a point blank chance late so the score remained the same.
1-1 after 20 minutes.
2nd Period
With Edmonton picking up on the 5 on 3, they struck early:
RNH picked up his 2nd helper of the night as he put that one on a platter for Letestu's 13th(!!!!!) of the year.
Just over halfway through the period, Looch made his mark for the second time on the night:
Nobody goes near lil' buddy Nuge when Looch is on the ice and gets away with it. Nobody.
2-1 after 40 minutes.
3rd Period
Third period summary: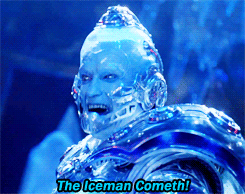 St. Louis out shot the Oil 10-6 in the final frame but Talbot and the fellas stood strong to finish their longest road trip of the season.
2-1 final.
Final Thoughts

Big win to finish .500 on the trip. Now Edmonton can enjoy some practice time with 3 days off before Detroit is in town on Saturday night. They now head into an 8(!!) game home stand to kick off the month of March.
The extra time off in between games will be good. It will give David Desharnais, and anyone else Pistol Pete may acquire on the deadline today a chance to get up and running with the club.
I don't hate the Davidson/Desharnais trade. Clearly the Oilers thought they would lose Davidson in the expansion draft this June, so why not try to get something in return for him? Desharnais is certainly an upgrade over Caggiula. He has plenty of playoff experience with the Habs, and from what I've seen he has some pace to his game. Yeah, he's small, but the rest of the Oilers are huge so that's no longer an issue.
Desharnis for Davidson an interesting deal.
IMO Colorado made sense for Davidson.
Could see Pouliot-Desharnis-Puljujarvi at some point

— Bob Stauffer (@Bob_Stauffer) March 1, 2017
That would be an interesting combo. Barring a trade for another RW, I imagine we'll see Pouliot-Desharnais-Kassian to start until JP gets recalled, whenever that may be.
I'm going to miss Brandon Davidson. He was the first mid-round pick the Oilers really truly developed from the 2010 draft until Pitlick arrived this year. He beat cancer when he was in his first year pro, and he really stepped up last year when Klefbom got hurt. He's going to be a hell of an NHL dman, but the Oilers clearly didn't have him in their plans moving forward. Best of luck to Davy in Montreal.
Jordan Eberle and RNH each with 6 points in their last 7 games played. Milan Lucic with goals in 3 games on the trip as well. Please god let that be a sign of things to come down the stretch.
McPoint!!
That would be the season sweep of the St. Louis Blues. The Oilers were lucky to get one win a year against the Blues over the last decade, so the  fact that they went 3-0 this year on the season is a sign of how far they have come. The McDavid effect.
Hottest Tweet of the Night
@BSchutte14 @EdmontonOilers You won't in about a week. Good luck with him.

— B Habs (@B_Habs27) March 1, 2017
The countdown is on.
If the Game was a Song
"Na Na Hey Hey Kiss Him Goodbye" by Steam 
Smell ya never, St. Louis.
MOP
Nuuuuuge. God bless you, pal. With two helpers on the night, and some strong play, RNH earned his MOP honours. He was taking the puck to the net like we haven't seen all year. Now keep it up, dammit.
GGG
LOOOOOOCCCCCHHHHH.