Morning After Blog: Welcome To The Shit Storm, Anaheim
Shanny's Note: Holy GOD!
1st Period
Tight period of hockey with no scoring. Both teams were feeling each other out. Penalties galore. Playoff hockey game one, baby.
Also that Leon two-hander to the back of Getzlaf's was one of those "unnecessary but totally necessary" moments. I'll take that any day. So worth the two minutes. Next time get Kesler too.
0-0
2nd Period
Anaheim opened the second round's scoring with a Ryan "15 goals" Getzlaf fucking laser beam about 6.3 seconds into the 2nd (three 'seconds' in this sentence, I've made it). Boys lost 7-rip the only time we gave up the first goal of a game in these playoffs. Luckily Anaheim's discipline rivals only that if Ndamukong Suh, and the boys were able to capitalize on a huge 5-on-3:
Show a boob for Letestube!! Mark Letestu on the PP is becoming almost too automatic, and I say that foreshadowingly, because:
3rd Period
DEATH. TAXES. MARK LETESTU ON THE POWER PLAY! If you would have told me at the start of the year that the Oilers would be in the second round of the playoffs and Mark Letestu would be leading the team in playoff goals after 7 games I would have said "hell ya, let's go."
Moments later, it was bonafide sniper Adam Larsson getting in on the fun:
The goal that would set the Oilers-dominated Honda Center crowd into an absolute frenzy. And just like that, the boys took a commanding 3-1 lead with 11 to play.
Then Anaheim scored.
Then Anaheim scored again.
FARTS. And all of a sudden, it looked like the Oilerz were coming. We were in desperate need of a hero…
Adam friggin Larsson, ladies and gentlemen:
As my boy Enrique Iglesius would sing, "I can be your hero, baby." And he kissed away all that pain! No more Oilerz PTSD. I've watched that play roughly 112 times and I still can't believe that went in. The hockey gods were with us last night. We NEVER get those breaks. NEVER! What an absolute time to be alive, Edmonton. Leon Draisaitl for good fucking measure:
Four points coming in damn hot. Suck it so damn hard, Anaheim.
5-3 OILERS FOREVER
Final Thoughts
Who do you think you are? I AM!!!
HUGE win for the Oil to kick off the series. They dealt Anaheim their first regulation loss in 18 games to open the series. Yeah, they got some bounces, but they didn't have their best night either and still managed to get the win. At the very least, a 1-1 split heading into game 3 at the Rog Mahal is good enough for me. That barn will be ROCKING on Sunday night.
Live look at Edmonton:
Ford Hall party is in full swing! @RogersPlace @EdmontonOilers pic.twitter.com/eTzJFhqDr4

— 630CHED (@630CHED) April 27, 2017
What a city.
It was a quiet night for Connor. Kesler stuck to him like glue, but we all knew that was coming. He'll get it going, do not worry folks.
Thank god for Leon Draisaitl. What a player. Casual 4 point night to kick things off. Clearly he's feeling better than he was early in the SJ series.
Smytty knows what's up:
Top 3 things to come out of Germany.
#3. Mercedes #2. Jochen Hecht's T-blades #1 Leon Draisaitl #orangecrush

— Ryan Smyth (@RealSmytty94) April 27, 2017
Adam Larsson… three point night???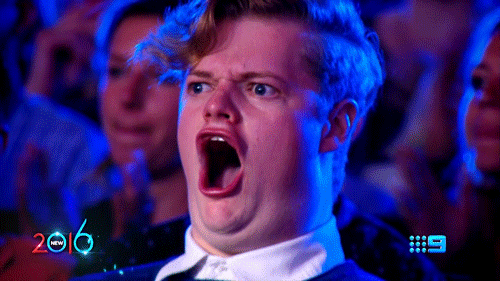 LOL at the Flames. Literally haven't won in Anaheim in 13 years. Meanwhile the Oil waltz in and take game 1. Calgary should be thanking their lucky stars they didn't fluke out a first round win and have to get embarrassed by the Oil in round two.
I was honestly a little upset that Kevin Bieksa got hurt. I love to hate that guy, but it also sucks for the Oilers because he STINKS. Literal fire hydrant out there nowadays. Hopefully he comes back so we can watch Connor roast him into oblivion at least once.
Ryan Kesler? Shit stain.
Ryan Getzlaf? Also a shit stain.
Game two on Friday night. Get those beers on ice and LETS GO!
Hottest Tweet of the Night
Here come the Oilers…..

— James Mirtle (@mirtle) April 27, 2017
And the winner of the "premature tweet by an obnoxious Leafs fan" award goes to! Wipe that egg off your face, Jimmy. Tee time's at 3:15.
Asshole of the Night
Ryan Getzlaf…
WATCH: Ryan Getzlaf tries to fight two people already engaged like the big tool he is. Bonus Content: Ryan Kesler being Ryan Kesler. pic.twitter.com/DCHboZwX1d

— Indiana_Matt (@Indiana_Matt) April 27, 2017
Real tough guy going after Rej Sekera, bud. The Oilers are really shaking in their boots, you bald asshole.
And as per any award for being an asshole, Ryan Kesler is an honorable mention.
3rd Star
Third star goes to Kassian. And the only reason is for giving Kesler the business at the end of the game. Hell yeah, Kass.
2nd Star
Marky Mark! 2 goals from essentially the same spot on the PP. Must be nice to shoot right, hey Mark?
1st Star
Everybody's favourite movie villain looking son of a bitch! The passenger himself, Adam Larsson!